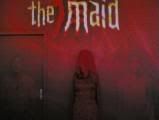 Ignoring the 7th month superstitions, Christine, Nice Girl & Boy (wink) and yours truly went ahead with the movie. The picture a bit dark rite? Haiz, it turned out fine in my 7610 leh~!
It was taken outside the cinema. Someone almost died on the spot cos the mannequin placed in the middle of nowhere with the creepy poster behind looks really ghostly. I can't believe they actually asked a girl to walk along orchard rd in that scary red outfit with an equally scary red scarf hung over the head - with two people carrying those old chinese type of lantern.
Kaoz, if I have seen that, I would be so scared that I'll sleep forever with the lights on!! But then again, it's pretty cool to have something so unusual..heh :p
I shall not elaborate on the cool twist of the movie.
JUST GO WATCH IT!! My advice to those who likes horror, and those who happen to be really sick and tired with the usual typical stereotype of long hair sadako, no plot kind of show. This is something that managed to at least steer from the boring old ones. And to watch it during 7th month!!! Adds the kick man~ *grins sheepishly*